Room Properties update too slow for lobby.
Hi, I am using the Photon Realtime C# SDK for Unity with LoadBalancing. I am making an asynchronous turn-based game, and players take turns asynchronously, and each turn I set new custom room properties using
OpSetCustomPropertiesOfRoom(boardProps, null, . . .)
(based off Memory demo).
The properties are properly initialized using
CustomRoomPropertiesForLobby = ...
when the room is created. My problem is sometimes it takes very long for the new room properties to be seen in the lobby.
For example, if a new room is created and the first turn is played and the client returns to lobby, the client, connected to master will call
OpWebRpc("GetGameList", null);
and the room will immediately show up, but the
OnWebRpcResponse(WebRpcResponse response)
will have
null
in the
response.Parameters
KeyValuePair "Properties" key for the new room. Sometimes it will take up to 5 minutes for the "Properties" to be populated with the data by the server.
Is there any way I can get those properties to update faster? I am trying to make a modern lobby where a player can see which games are "Your Turn" or "Their Turn" or "You Won", like in Words With Friends or any game like that. 5 minutes is way too long for a response. Here is a little visual example of what I'm going for: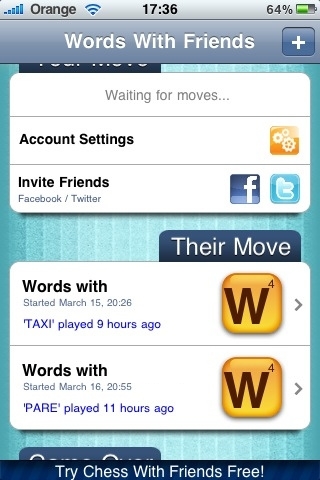 Just in case you want them, here are my roomProperties in full:
RoomOptions roomOptions = new RoomOptions() { MaxPlayers = 2, CustomRoomPropertiesForLobby = new string[] { PropTurn, PropNames, PropIds, "wn" }, PlayerTtl = int.MaxValue, EmptyRoomTtl = 300000, CheckUserOnJoin = true, CleanupCacheOnLeave = false };
and we use
LobbyType.AsyncRandomLobby
Comments